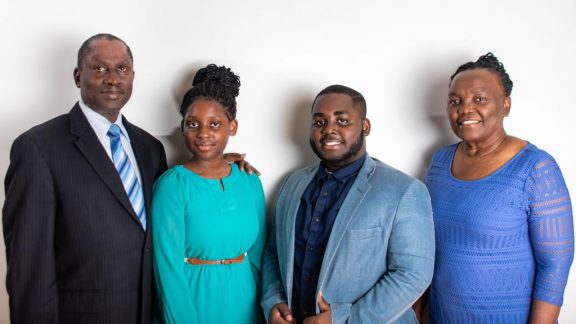 The Blythe family: Pastor Charles P. Blythe, Charlyn Phioniq Blythe, Charles Phillip Blythe and Marvalyn Blythe. 
Our pastor has served the Seventh-day Adventist Church for over 30 years as a district pastor as well as Youth and Chaplaincy Ministries Director. He pastored churches in Jamaica and Maryland, USA before coming to New York.
He is a pastor, a counselor and a family man. He holds a Bachelor of Arts Degree in Religion from Northern Caribbean University, and a Master of Arts Degree in Counselling Psychology from Caribbean Graduate School of Theology in Kingston, Jamaica.
Pastor Blythe is an invested Master Guide. He enjoys camping, swimming, playing scrabble and spending time with family. He is married to the former Marvalyn Walker. They are the proud parents of two children, Charles Phillip – II and Charlyn Phioniq.
His philosophy is "Quality Preparation for Quality Service". His desire is to see the youth maximizing their God-given potentials and committed to a saving relationship with Jesus Christ.